The Best Sweatshirt Fabric (& What to Avoid)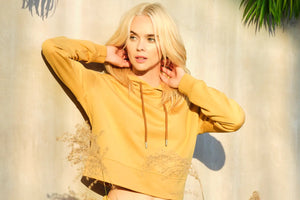 Sweatshirts are the epitome of comfort. Or, at least they should be. 
But over the past century, fast fashion moguls have bastardized the garment with sweatshirt fleece: a petroleum-based textile that breaks down over time, leaving you with a scratchy, faded apparition of the top you once loved.
In this article, we offer more insight into the materials typically used to make sweatshirts. We also explain why we at Myles Price collaborated with a local mill in Los Angeles to produce a better sweatshirt fabric. 
Sweatshirt Fleece: Defined
The story starts in Alabama in the 1920s. It was there, in the heat of Dixie, that Crimson Tide quarterback Benjamin Russell Jr. said enough is enough. 
Tired of the incessant itching and chafing caused by his wool uniform, Ben approached his father—the owner of Russell Manufacturing Company—about creating a better alternative. After thinking long and hard, Ben Sr. debuted the first sweatshirt: a loose, collarless pullover made of heavy cotton.
In the coming decades, sweatshirts would take America by storm. The garment was soft, comfortable, and a cheap way for universities to market themselves.
Alas, everything changed in the 1950s. After DuPont purchased the rights to polyester—a synthetic fiber derived from petroleum—the material was pushed as a sort of miracle fabric. In return, clothing manufacturers began making sweatshirts out of a cotton-polyester blend knit fabric known as sweatshirt fleece. 
Sweatshirt fleece has its advantages. Namely, the material is revered for its lightweight feel and water resistance. But there are some major problems. 
Reasons to Avoid Sweatshirt Fleece
Visit your nearest department store and you're likely to find sweatshirt fleece. You may even have the fabric hanging in your closet or folded away in a drawer. And though it may seem innocent enough, this material should be avoided at all costs. 
Here's why:
Deplorable Durability:

Sweatshirt fleece may feel soft at first. But after a few washes, the cotton wears away. This leaves you with a scratchy, skin-irritating plastic material that burns in the dryer. 

Not Environmentally-Friendly:

Polyester contains antimony compounds. Several studies have linked these compounds to heart disease, liver toxicity, and cancer. Producing polyester is also an incredibly water-intensive process.  

Apt to Pill:

Unlike Supima® Cotton, which is revered for its longevity, cotton-polyester blends tend to pill, run, and rip.  
What Material Makes the Best Sweatshirts? 
Desperate for a better sweatshirt—a cozy top that doesn't lose its shape or emit carcinogenic chemicals—we at Myles Price collaborated with a local mill in Los Angeles to create our custom MiniLux® fabric.
To develop this high-quality sweatshirt material, we started with the foundational fiber of our LuxCasual brand: Supima® Cotton. Grown in the United States, Supima® offers an extra-long staple fiber. This gives the fabric unparalleled softness and unbelievable durability. Supima® also holds color more richly.  
To give the fabric a silky drape, we experimented with different blends. After a meticulous R&D process, we settled on Lenzing™ Modal: a sustainably-produced thread mainly composed of beech wood pulp. Smooth and durable, this plant fiber proved to be the perfect addition. 
From there, we perfected the cotton-to-modal ratio, striking the perfect balance with 87 percent Supima® and 13 percent Modal. Supima® gives the fabric a foundation of strength, structure, silkiness, and vibrant color while the Modal amplifies the cotton's inherent luxuriousness without losing the garment's structure.   
Reasons to Love MiniLux® Fabric
In an industry that tends to produce as much product as possible, as cheaply as possible, MiniLux® runs in the opposite direction. Debuting in our MiniLux® Raglan Sweatshirt, this custom fabric affords luxurious comfort that lasts. 
Here's some more reasons to love our MiniLux® fabric:
Decadent Weight:

Clocking in at 15 ounces, MiniLux® is considered a heavyweight fabric by industry standards. But thanks to the meticulous blend of Supima® and Lenzing™ Modal, the material still feels light and breezy.    

Sustainability:

Our custom blend is made from a plant-based fiber and the highest-quality cotton on earth. When combined, these two materials create a super-sustainable and natural fabric. 

 

Superb Drape:

MiniLux® doesn't sit or clump. Instead, it drapes much like silk. 

Timeless:

In the winter months, MiniLux® shines as a layering piece under a blazer or a puffy jacket. But it can also be worn as a standalone ensemble in the spring and summer. 
At Myles Price, our mission is to make LuxCasual apparel that helps you look and feel your best. This starts with exceptional fabrics. We're excited to say MiniLux® meets—no, surpasses—this ambitious goal. 
---