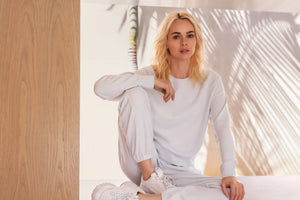 For millennia, we have proven ourselves to the world with loud, overstated attire. This dates back to as early as 3150 B.C. when pharaohs donned leopard pelts and false beards of gold. 
But in modern times, ideas of opulence are changing. Luxury today is quieter and more refined. It's not mink coats and diamond rings but thoughtful garments fashioned to help you feel your best. 
We intimately understand this evolved idea of luxury at Myles Price, which is why our SuperLux Raglan Sweatshirt and MiniLux® Raglan Sweatshirt are crafted with a raglan sleeve. This design offers an elegant fit that doesn't restrict your movement in the office, on a night out with friends, or just at home on a Sunday morning enjoying your LuxCasual apparel. 
But what, exactly, is a raglan sleeve? We answer this and more below. 
Raglan Sleeves, Explained
Up until the early 1800s, seamstresses attached sleeves to garments using one method: the set-in. This technique calls for cutting a sleeve from a separate piece of fabric. The sleeve is then stitched into the armhole, resulting in a seam that starts at the top of the shoulder and loops under the arm. 
Alas, the set-in sleeve acquired competition when British Army officer Lord Raglan lost his right arm during the Battle of Waterloo. Intent on giving the war hero a better-fitting coat, Lord Raglan's tailor designed a whole new sleeve entirely. Enter: the raglan sleeve. 
The raglan sleeve is made with a continuous piece of fabric that extends from the collar to the underarm. The most classic example of this is a baseball tee. Because of the colorblocking, you can easily see the tell-tale diagonal seam.   
Benefits of the Raglan Sleeve
Though invented for a 19th-century soldier, the raglan sleeve affords a timeless combination of style and function. Its benefits include:
Freedom of Movement:

Compared to the set-in sleeve, the raglan has a wider underarm fitting that offers an increased range of motion. This is why the design makes an appearance in baseball jerseys.

More Casual Look:

Aesthetically, raglan sleeves are relaxed and informal. However, this design can still leave quite the impression when paired with exquisite stitching and high-quality fabric. 

Softer Silhouette:

Garments featuring the raglan sleeve lack a shoulder seam. This softens and elongates the silhouette, drawing the eye away from the shoulders.  

 
Easy to Layer:

Since the raglan sleeve is more loose-fitting in the underarms, you can easily layer clothing during the cooler months without feeling stifled or restricted. 
Raglan vs. Set-In: Which is Better? 
Lord Raglan certainly had a preference when it came to sleeves. But at Myles Price, we don't play favorites. We know that both the raglan and set-in designs have their place in our line of LuxCasual apparel.
Consider our Slender Crew Tee With "V" Seam, for instance. We wanted this garment to deliver feminine elegance and refinement without losing the essence of a classic Southern California tee. With this in mind, we opted for a set-in sleeve because it affords a cleaner, more tailored look. 
But with our SuperLux Raglan Sweatshirt, we dialed up the comfort by incorporating a more relaxed raglan sleeve and using our Custom Extra Long Staple Cotton Blend. Since we still wanted the piece to exude effortless luxury, we elevated the aesthetics with an inside-out stripe down the shoulder. 
Point being, neither sleeve design is better than the other. However, we do believe that there are better, more thoughtful applications of each. That's why we carefully design and craft each of our garments with your LuxCasual lifestyle in mind.   
Raglan Sleeve FAQs
What is a raglan sleeve?
A raglan sleeve is a continuous piece of fabric that extends from the collarbone to the underarm. This design is quite different from the set-in sleeve, which is a separate piece of fabric attached with a looping seam. 
Are raglan sleeves flattering? 
When properly executed, raglan sleeves can be quite flattering. If you have narrow shoulders, this design will give your torso structure. If you have broad shoulders, this design will draw the eye away, giving your body a slimmer look. 
Why is it called a raglan sleeve?
The raglan sleeve is named after British Army officer Lord Raglan. After losing his arm in the war, Raglan commissioned his tailor to create a better-fitting coat.  
Are raglan sleeves comfortable?
Very. The raglan sleeve is more loose-fitting in the underarms, giving garments a relaxed feel. 
---