30 Types of Dresses For Every Occasion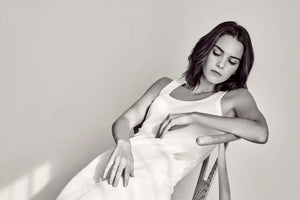 Dresses are often associated with formal events: charity galas, black-tie weddings, award presentations, and so on. But at Myles Price, we believe these garments are versatile enough to be worn in more relaxed settings too. The key is to know which type of dress to wear and when. 
To help you make this distinction, we have rounded up 30 types of dresses below. Ranging from the classic A-line to the avant-garde wrap, these designs are each stunning in their own right.
1. A-Line Dress
If you want to accentuate the shape of your body, choose an A-line dress. Snug at the hips, this design flares out at the waistline to create a triangular "A" shape that's iconically flattering.    
2. Asymmetrical Dress
Characterized by a slanted hemline or neckline, the asymmetrical dress creates vertical lines of interest that slim the body. Variations include the one-shouldered dress and the high-low dress, the latter of which is longer in the back. 
3. Ball Gown Dress

If you have a high-end social occasion on your calendar, a ball gown may be in order. Full and flowy, this floor-length ensemble makes quite the statement—especially if you opt for a low décolletage. Just be sure the event is truly formal, otherwise, you may be overdressed. 
4. Bardot Dress 
Named after French actress Brigitte Bardot, the Bardot dress offers an off-the-shoulder sleeve that's easy and breezy. For a posh night out, pair this dress with heels and a clutch. For a funkier rendezvous, wear the Bardot dress with flats and a brown leather satchel.  
5. Blouson Dress
Worn by Hollywood heartbreaker Audrey Hepburn, the blouson dress features a cinched waistline with a looser bodice. What we love about this design is its versatility. The blouson dress can be accessorized up or down depending on your schedule.  
6. Bodycon Dress 
Made from form-fitting fabric, the bodycon dress spotlights your silhouette without apology. The result is a hot, sexy fit that's sure to turn heads. Just keep in mind that this snug dress may not be appropriate for corporate America. 
7. Denim Dress
If you want the feel of jeans with the elegant look of a dress, the denim dress is for you. True to its name, this garment is made completely from denim. Design variations range from denim shirt dresses with buttons to denim pinafore dresses with pockets. 
8. Caftan Dress 
Popularized by the flower children of the 1960s, the caftan is an ankle-length dress with long, flowy sleeves. Since it's airy and comfortable, this dress is a poolside go-to. But when stylized correctly, you can also wear the caftan to work meetings and date nights. 
9. Cocktail Dress 
Striking a balance between formal and casual, the cocktail dress is suitable for fundraising galas, holiday parties, and every celebration in between. At Myles Price, we pay homage to this classic look with our Ribbed Cocktail Dress. Made from Supima® Cotton, this garment is as comfortable as it is elegant. 
10. Empire Waist Dress 
A vestige of Neoclassical fashion, the empire waist dress has a fitted bodice that's nipped in at the bustline. This redirects attention away from the hips and waist, slimming the wearer. 
11. Halter Dress 
Kick summertime sadness with the halter dress. Designed for warmer weather, this backless dress has straps that run around the neckline and tie for a chic look that shows off your shoulders. 
12. Maxi Dress 
If you're dressing for a semi-formal occasion, there's no better option than an ankle-length maxi dress. At Myles Price, we celebrate this design with our Ribbed V-Neck Maxi Dress. Featuring a V-neckline, cap sleeves, and a full-length hem with double slits, this garment is great for work functions and dinners with friends. 
13. Mermaid Dress 
Designed to accentuate the hips, the mermaid silhouette hugs the body tightly and then flares at or below the knee. This affords a mermaid-like "tail" that's often embellished with ruffles, lace, or beading.  
14. Midi Dress
Defined as any dress with a hem falling somewhere between the knees and ankles, the midi is a solid choice if you're uncertain of an event's dress code. Even better, a midi makes it easy to dance the night away.     
15. Mini Dress  
The shortest style, the mini dress falls well above the knees. At Myles Price, we love our SuperLux Dress—a mini made with Supima® Cotton—because it can be accessorized with sneakers and hoop earrings for a fun and flirty look. Or, you can zhuzh it up with heels and a statement necklace for a gala-ready fit. 
16. Peplum Dress
The peplum dress features pleated strips of fabric that create a ruffle or fluted hem. For feminine flair, these frilly adornments are sewn under the waist, below the bust, at the hips, or around the shoulders.
17. Pinafore Dress 
The pinafore dress is a simple, sleeveless garment typically embellished with pleats, buttons, and large pockets. Offering strong Laura Ingalls Wilder vibes, this dress begs to be worn while you whip up rustic galettes or tend to your chickens. But it can also be stylized for more opulent occasions. 
18. Pouf Dress
If you love the vintage aesthetic, you'll love the 1950s-inspired pouf dress. Cinched at the waist and pleated into a full skirt, this design is über retro and feminine. Pair it with pumps and pearls or platform boots and leather.   
19. Sheath Dress 
Dating back to Ancient Egypt, the sheath dress is a timeless ode to the female figure. Close-fitting at every point—from bodice to hem—this seamless dress is designed to accentuate the wearer's silhouette. For a provocative yet professional ensemble, accessorize with a blazer.       
20. Shift Dress
The exact opposite of the sheath dress, the shift dress is boxy and loose-fitting. Often sleeveless, this garment falls straight from the shoulders with darns around the bust. Most shift dresses feature a high scoop or boat neck but are otherwise simple and understated. Variations include the pencil dress, which tends to be shorter. 
21. Shirt Dress 
Borrowing details from a tailored shirt, this dress design typically includes a collar, button front, and cuffed sleeves for a casual look. Wear this dress to buy fresh produce at the farmers market or grab Sunday brunch with friends. Variations include the blazer dress, which is inspired by a men's blazer.  
22. Slip Dress 
Popularized during the underwear-as-outerwear trend, the slip dress typically calls for lace, silk, spaghetti straps, and a V-neckline. In the 1990s, grunge icon Courtney Love accessorized this dress with lariat necklaces, diamond-ensconced clutches, and even white gloves. To achieve a more laid-back look, we suggest wearing our Boyfriend Crew in White under the dress.  
23. Sundress 
Light, loose, and sleeveless, the sundress screams "summertime." As such, this dress is best reserved for relaxing evenings at home or casual outdoor events (think: garden parties).  
24. Tank Dress
Combining the airy breeziness of a tank top with the refined elegance of an evening gown, the tank dress is a daily go-to. At Myles Price, we use 100% Supima® Cotton to craft our Ribbed Tank Dress. This helps the dress hold its shape while feeling stretchy and comfortable.   
25. Tea Length Dress 
If you want to look like a retro scarlet, choose a tea length dress. Popularized by women attending high teas during the 1920s, these dresses stop about three to four inches below the knee. The mid-calf hem is a less fussy alternative to floor-length gowns.   
26. Tee Dress 
The ultimate union of comfort and style, the tee dress is an everyday essential that can be styled up or down depending on your needs. At Myles Price, we use Supima® Cotton to craft our iconic Tee Dress. The resulting piece of LuxCasual apparel is perfect for day or night.    
27. Trumpet Dress 
A trumpet dress is a very form-fitting garment that gradually flares starting at mid-thigh. This design is similar to that of a mermaid dress. 
28. Tube Dress 
Tight and strapless, the tube dress is a great choice for a tantalizing evening with your beau. For a sleek and sexy look, wear the dress unadorned. For a more prim and proper look, add a cardigan and a statement necklace.    
29. Qipao Dress 
Also known as the mandarin gown, the qipao dress is a Chinese garment with a high neck and straight skirt. Dating back to the 17th century, these dresses are traditionally made from silk, adorned with decorative embroidery motifs, and worn for special occasions. 
30. Wrap Dress 
The wrap dress is characterized by a front closure that's formed by wrapping one side of the dress across the other and then tying the fabric at the waist or back. Innovated by American fashion designer Diane von Furstenberg in 1972 after her divorce, this dress is a symbol of female liberation.
---