The Little Black Dress: Evolution and History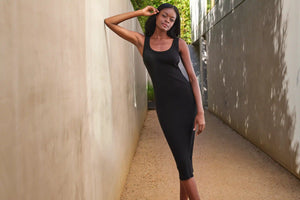 There is no item of clothing more iconic than the little black dress.
Lovingly known as the LBD, this wardrobe mainstay exudes as much sexiness as it does versatility. When accessorized, the dress can hold its own in a corporate cubicle by day and turn heads in a bustling club come night. 
Put simply, the LBD is—and we predict always will be—the "everything" dress. However, like most fixtures of contemporary fashion, this garment sports a circuitous and, at times, contentious history. 
Of Mourning and Maids 
Since the rise of Rome, women have donned dark-colored clothing to honor the deceased. Alas, the LBD first emerged as a symbol of grieving. Case in point: Queen Victoria wore her mourning dress—a garment made from black silk taffeta—for 40 years following the death of her husband. 


But in the 1860s, black dresses adopted a new meaning. 
Up until then, maids had clothed themselves in either homemade garments or castoffs from their employers. Yet as relations between the British bourgeoisie and proletariat soured, well-to-do women balked at the idea of servants wearing high-class clothing. 
And so, domestic workers were required to sport a uniform: a black, floor-length dress with a white bonnet and an apron. This trend soon spread to America and France. 
Shopgirls
Twenty years later during the heat of the Industrial Revolution, women began flocking to New York City to work as "shopgirls" in clothing stores. Armed with disposable income and mass-produced sewing machines, these women fashioned modish outfits for themselves.
This didn't sit well with wealthy customers. As a Methodist minister wrote in a 1910 edition of the International Gazette, "the craze of the shopgirl…as fashionably attired as the rich women she waits on had become a menace."
To make store patrons feel more comfortable, New York City businesses mandated a dress code: the LBD. Shops in London and Paris soon adopted the uniform as well. 
A Surprising Rebrand
While working-class women donned their obligatory frocks, a strange phenomenon rippled through the upper class: The little black dress emerged not as a marker of poverty but of affluence and sex appeal. 
In 1884, for example, artist John Singer Sargent debuted "Portrait of Madame X" at the Paris Salon. The oil painting featured a young woman—recognized as Parisian socialite Virginie Amélie Avegno Gautreau—in a black evening gown with a plunging neckline. 
But the LBD wasn't reserved just for celebutantes. Diplomats like Eleanor Wilson McAdoo, wife of U.S. Secretary of the Treasury William McAdoo, also made public appearances wearing the garment.   
Coco Chanel's Take
In 1926, the LBD gained even more fame when French fashion designer Coco Chanel revealed her own rendition in Vogue. Made from crêpe de Chine, the calf-length dress featured long, narrow sleeves and was accessorized with a string of pearls. 
The design was intentionally simple and accessible. So much so that Vogue anticipated the dress would become "a sort of uniform for all women of taste."
In many ways, that prediction held true. During the Jazz Age of the late 1920s, for instance, flappers shortened the frock's hemline and ditched the sleeves for a loose-fitting and liberating garment. 
Later, when the stock market crashed and World War II commenced, the hemline veered back toward conservatism. But still, women of all classes favored the LBD because of its affordable elegance.  
Dior's "New Look" and Audrey Hepburn
Twenty years after Chanel offered her take on the LBD, fellow French fashion designer Christian Dior revealed his. 
Titled the "New Look," Dior's debut dress collection dished up ultra-femininity with rounded shoulders, cinched waistlines, and full skirts. The opulent style was a stark contrast to the less-is-more aesthetic popularized through the Great Depression and war. 
But sentiments changed in 1961 when the Hollywood blockbuster "Breakfast at Tiffany's" hit screens. Clothed in a black sheath dress designed by Hubert de Givenchy, Audrey Hepburn stole hearts and forever changed the course of LBD history. 
From Fishnets to Grunge
In the punk rock-fueled 1970s, Hepburn's simple sheath dress received a round of embellishments: sheer fabric, lace, and even safety pins. Fishnets were a popular pairing as well. 
The following decade gave rise to the peplum dress: a garment with flared ruffles sewn into the waistline. Padded shoulders and sequins also took center stage. 
Then came the Spice Girls-inspired LBD of the 1990s. Short, simple, and form-fitting, this design was classically coupled with a pair of chunky combat boots and a choker necklace that screamed "grunge." 
The early aughts and 2010s saw more variations of the LBD: leather tube dresses, babydoll styles with lace embroidery, bodycon fits with mesh accents, and so on.  
The LuxCasual LBD 
This abbreviated history brings us to today: a new age in which opulence is no longer defined by white gloves or strands of pearls but by the careful balance of comfort and elegance. You can witness this balance in the Myles Price line of Supima® cotton dresses. 
Our take on the LBD, these dresses are designed using the highest quality textiles on earth. As such, you'll find them to be striking, sumptuous, and enduring. Unlike the trends of yesteryear, our dresses last a lifetime. 
---