Rib Knit Fabric: Types, Benefits, and Why It Makes Superior Apparel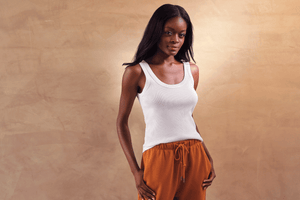 In simple terms, rib knit is a knitted fabric with raised columns of stitching. This knitting pattern gives clothing unparalleled stretch and softness, but it also ensures that the garment elegantly accentuates the shape of your body. 
Read on to learn more about rib knit fabric and why it debuts in our line of LuxCasual apparel.  
What is Rib Knit Fabric?
Think about your tried-and-true tank top. You know, the dingy, sweat-stained garment you wear to do everything: lift weights, scrub the shower, buy groceries, etc. If your timeless tank is bumpy or slightly ridged to the touch, it's likely made from rib knit.
Rib knit is a type of knitted fabric characterized by textured, vertical lines. These lines are created by alternating rows of knit and purl stitches. 
A knit stitch is formed by pulling the yarn through a loop from back to front. This creates a raised, v-shaped stitch. Comparatively, purl stitches are formed by pulling the yarn through a loop from front to back. This creates the palpable groove you feel in the fabric of your tank top. It also gives your time-worn tank its long-lasting comfort.  
Benefits of Rib Knit Fabric 
Thanks to its unique stitching pattern, rib knit fabric is incredibly comfortable. It has great breathability and crosswise stretch, making it an ideal choice for leisurewear and undergarments.
Other benefits of rib knit fabric include:
Wrinkle-Resistant:

The elasticity of rib knit allows the fabric to spring back into shape even after being crumpled in a drawer or suitcase.

Form-Fitting:

The elastic nature of rib knit also makes it an ideal choice for close-fitting garments, such as a sleek tee shirt or a curve-accentuating cocktail dress. 

Visual Interest:

The knit texture of this fabric gives garments a subtle pop of character without overwhelming the overall design. 
Types of Rib Knit Fabric
Not all rib knit fabrics are the same. Though most are made from 100 percent cotton, blends of rayon, spandex, and other synthetic fibers are becoming increasingly popular. Stitching patterns can also vary from fabric to fabric. 
With 1x1 rib knit, for instance, the fabric follows a very basic pattern: knit stitch, purl stitch, knit stitch, purl stitch... This results in a very tight fabric with narrow ribbing. You often see single rib knit used for sweater cuffs and necklines. 
Comparatively, 2x2 rib knit (a.k.a. double rib knit) follows a slightly more complicated pattern: knit stitch-knit stitch, purl stitch-purl stitch, knit stitch-knit stitch, purl stitch-purl stitch… This sequence results in a stretchier fabric with wider ribbing. Other variations include 3x3, 4x4, 5x5, and so on. 
Though rib knit sequences often call for an equal number of knit and purl stitches, they don't have to. With a 2x1 rib knit, for example, two knit stitches are alternated with a single purl stitch. This gives the fabric a bulkier appearance and more elasticity. As such, you often see 2x1 rib knit used for heavy sweaters and winter socks. 
Rib Knit Fabric Uses
Since rib knit fabric is tight and stretchy, it's often reserved for specialized purposes like creating a tee shirt neckline or a sweater waistband. But when placed in the right hands, rib knit can also be used to create the bodices of über-chic and ultra-comfortable garments. 
At Myles Price, for instance, 2x1 rib knit fabric gives our Ribbed Tank its delectable softness and supreme elasticity. Made with the highest quality Supima® Cotton on the market, this tank top hugs your body in all the right ways and can be worn by itself for a more casual look or accessorized with a blazer for an office-ready fit. 
We also use rib knit fabric in two of our dress designs: the Ribbed Tank Dress and the Ribbed Cocktail Dress. In each of these pieces, the 100 percent Supima Cotton fabric affords comfort without compromising aesthetics. Such is the promise of our LuxCasual brand, after all. No matter if you're wearing our clothing to a formal client meeting or a laid-back brunch, you will look and feel good because we design apparel that elevates every moment of your day.   
---